Things have been going really well and keeping me super busy so I thought I would give this a try. I'll probably update every Sunday to try and get my thoughts in order before a new week begins.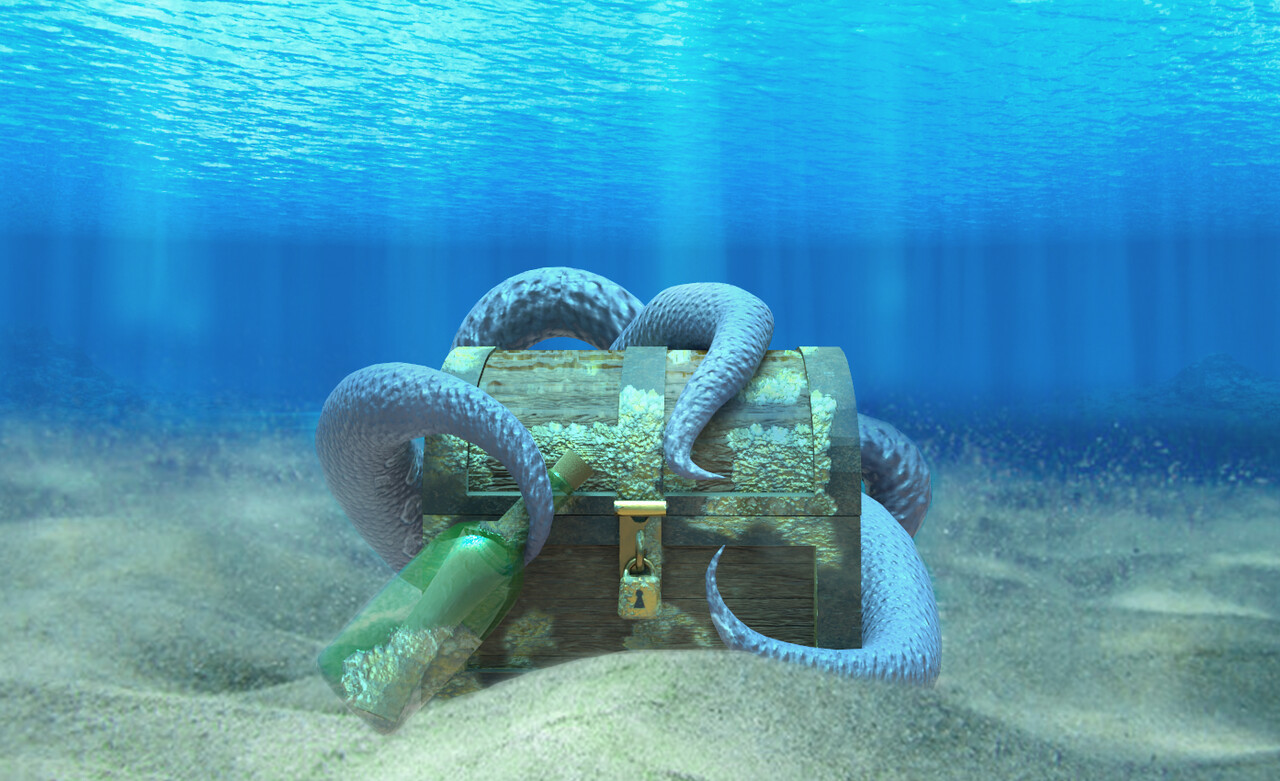 We started a new art challenge at my work. Someone chooses a theme and anyone interested has one week to create something related to the theme. It doesn't have to be 3D, it can be a poem, a short story, a painting, drawing etc. But I'll be using this as motivation to create 3D assets more regularly.
This week's theme was ocean, and I immediately had several ideas. Shells, but that seemed too simple...a boat in a bottle, although very interesting, there just wasn't enough time for that. In the end I decided to go with an underwater chest being hugged by the tentacles of some sea monster. I included a bottle with a map in it with the idea of the monster being so greedy that not only is it keeping the treasure, but also the only way to find it. I also wanted to give this a more stylized, cartoony feel as most of my stuff is realistic. I spent about 5 hours on it and had it completed by Wednesday. It was modelled in Maya, textured with Substance Painter and rendered with Marmoset Toolbag. Tomorrow I get to share it with everyone else at work.

Recently during a work meeting, someone mentioned the idea of registering a business while you're still young. It's been an off and on thought of mine for years and since I'm turning 30 in exactly 2 weeks, why the hell not? So on Thursday I filled out the first part of registering Work Of Shields, which is a Canada-wide name search to make sure it doesn't already exist. I should find out sometime this week and then I can move on to fully register it. I do a lot of freelance as well as commissions, have a decent Etsy store, do well at conventions, and taking this step makes everything feel more legit.

Speaking of commissions and my Etsy store, thanks to the Father's Day gift I painted recently, I've received so many commissions that I've been spending every evening and my entire weekends painting for the last two weeks. I painted gouache portraits of my nephews, and when I posted them on social media, I immediately received a double portrait commission, as well as 2 dog portraits. Since then I have another person portrait as well as 2 more dog portraits. My hand may fall off from all this painting, but it's a wonderful problem to have and I'm very grateful. I added a custom listing to my Etsy store and have considered posting my traditional stuff on ArtStation, but there doesn't seem to be anything that's not digital here, so we will see.

My "Moon Wand - After The Battle" print has officially become my most favoured listing on Etsy and I decided to post it here as an option to purchase as well. It's definitely inspiring me to do more 3D Art-Prints in the very near future. Thankfully I have some vacation time coming up with absolutely nothing planned. The Hal-Con digital vendor floor will be opening soon and I'm excited for more traffic and hopefully more sales. 
Other than that, I've also started writing again. A few years ago I had been writing a book and was 80% finished until my laptop crashed HARD and deleted everything, including my back ups. Since then it was really hard to try again, but lately I've felt more creative than ever and it gives me hope that the world is getting back to normal.