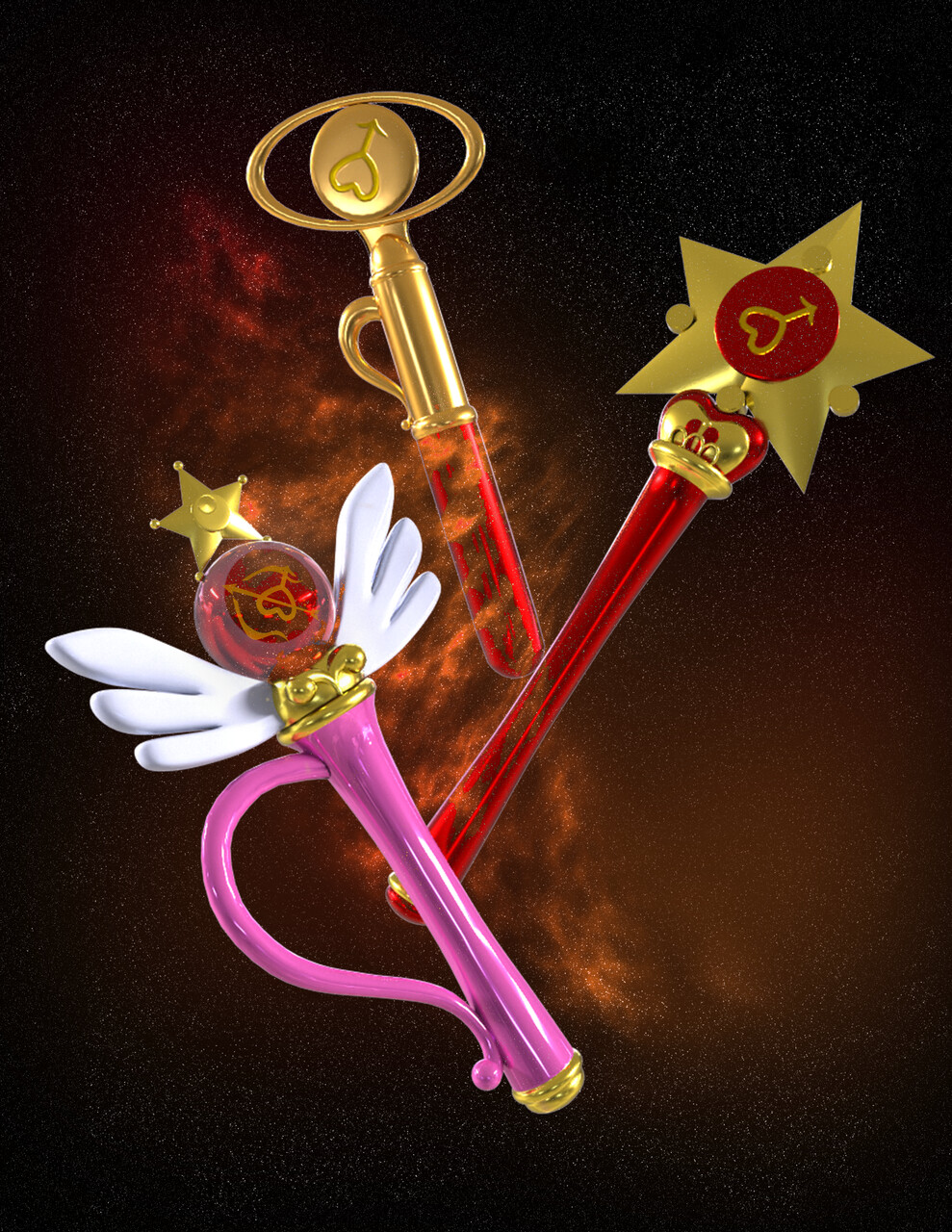 Well, so much for posting weekly. The art challenge at work has been extended to two weeks per theme, so I'll try to align my blogs with those. The last theme was Fire and I decided to kill two birds with one stone by creating Sailor Mar's Transformation wands. I had already planned on making one for each scout as new prints on my Etsy shop, so this got the majority of the work out of the way. Those prints should be available by the end of this week.

A lot has happened since my last blog. I actually had a week vacation, and that week ended up being one of the busiest I've ever had.

While visiting PEI, I was contacted about doing book illustrations for a fairly well known company in the maritimes. I can't say much about it as I signed an NDA, but after a couple of meetings and style samples, I'm finally all set up to start the real work. This is a great freelance opportunity and I'm very grateful to the people who suggested my name to them.

Apart from that I had several more dog portrait commissions. It's really great to be finding my traditional painting style and I really hope it doesn't slow down! Still trying to make the decision on whether or not to post the paintings on ArtStation. I did make a post on Etsy.

My online vendor shop for HalCon went live, and I decided last minute that I would also apply for the in-person HalCon in October. The tables are fairly cheap this year, and it would be a great opportunity to get rid of some stock and start fresh for 2022. As for Covid, I'm fairly reassured that the second things get bad, our province will get shut down. We seem to be taking stronger precautions than most, and the fact that I'll be behind a table and away from main traffic seems fine. Just need to add some sanitizer and a "don't touch unless buying" sign haha. I should find out if I got accepted in a few weeks.

As I mentioned in the previous blog, I was trying to register my business Work Of Shields. The first attempt came back and said my name wasn't descriptive enough, so I tried again with Work of Jessica Shields. Again, it was rejected for the same reasons. I can't see myself changing the name much more than that so unfortunately it doesn't look like it is happening. I contacted support to get a clearer reasoning, as I know many companies that are just the person's name, so we will see what they say. Alas, no registered company before I turned 30 (last Sunday) which was a goal of mine.

So yes, my vacation was very busy. I got 1.5 days to actually relax, but its a great problem to have. This week I have a horse commission, a half sleeve tattoo commission, and possibly a person portrait. That's on top of the book illustrations. I also got to choose the new work theme and I chose "Royalty." I've had an idea for years now, and I hope this is the push I need to actually execute it.